Notice a large cake outside of Jewish Federation's Kopolow Building?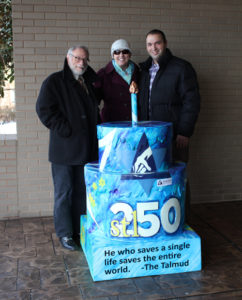 To celebrate the 250th birthday of St. Louis, STL250 is presenting "Cakeway to the West," placing 250 four-foot-tall cake sculptures decorated by local artists at notable spots throughout the region. It combines a public art exhibit, scavenger hunt, and history education.
Each cake will be interactive, using smart phones and the STL250 app that will launch on February 14. The app will help people find the cakes, learn about the locations, and gain points toward a sweepstakes drawing.
The Holocaust Museum & Learning Center cake was created by local artist Henryk Ptasiewicz, in consultation with Holocaust Museum and Jewish Federation staff.
Cakes will be on display through December 31.
The big 250 celebration starts 2/14/14 and will last all year. We're happy to be a part of honoring the incredible history of St. Louis!