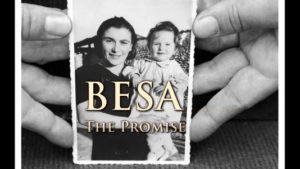 The Holocaust Museum & Learning Center will screen a special film commemorating Tisha B'Av, the ninth day of the Jewish month of Av, Sunday, July 22, at 2 pm in the HMLC Theater (12 Millstone Campus Drive, 63146). This date in the Hebrew calendar marks the destruction of both the first and second Temples in Jerusalem and several other tragic events in Jewish history.
"Besa: The Promise," a 2012 documentary directed by Rachel Goslins, presents the powerful, largely unknown story of the Muslim men and women of Albania, who courageously saved nearly 2,000 Jews from the Nazis during World War II.
"Besa: The Promise" is in English and has a running time of 90 minutes.
Rabbi Ze'ev Smason of Nusach Hari-B'nai Zion Congregation will lead a discussion following the screening. This program is free of charge and open to the public. To RSVP and for information, please call 314-442-3711 or email AGoldfeder@JFedSTL.org.