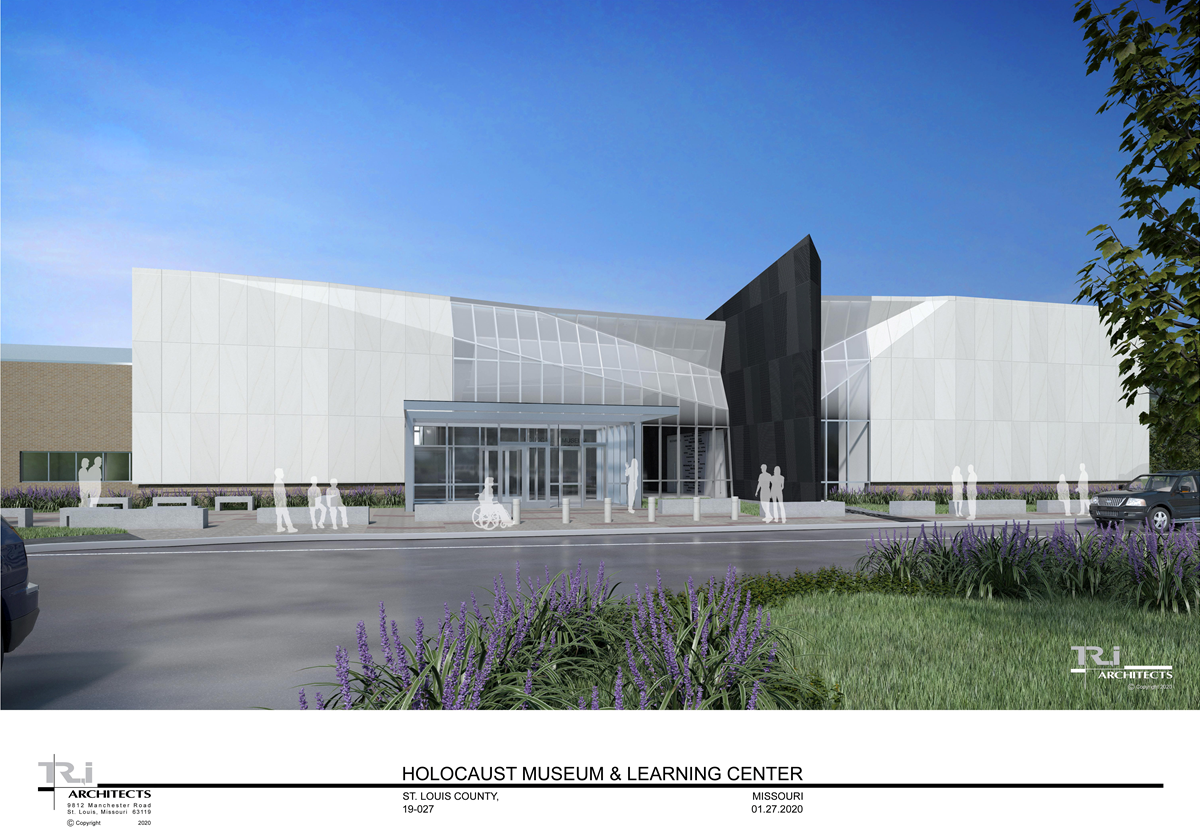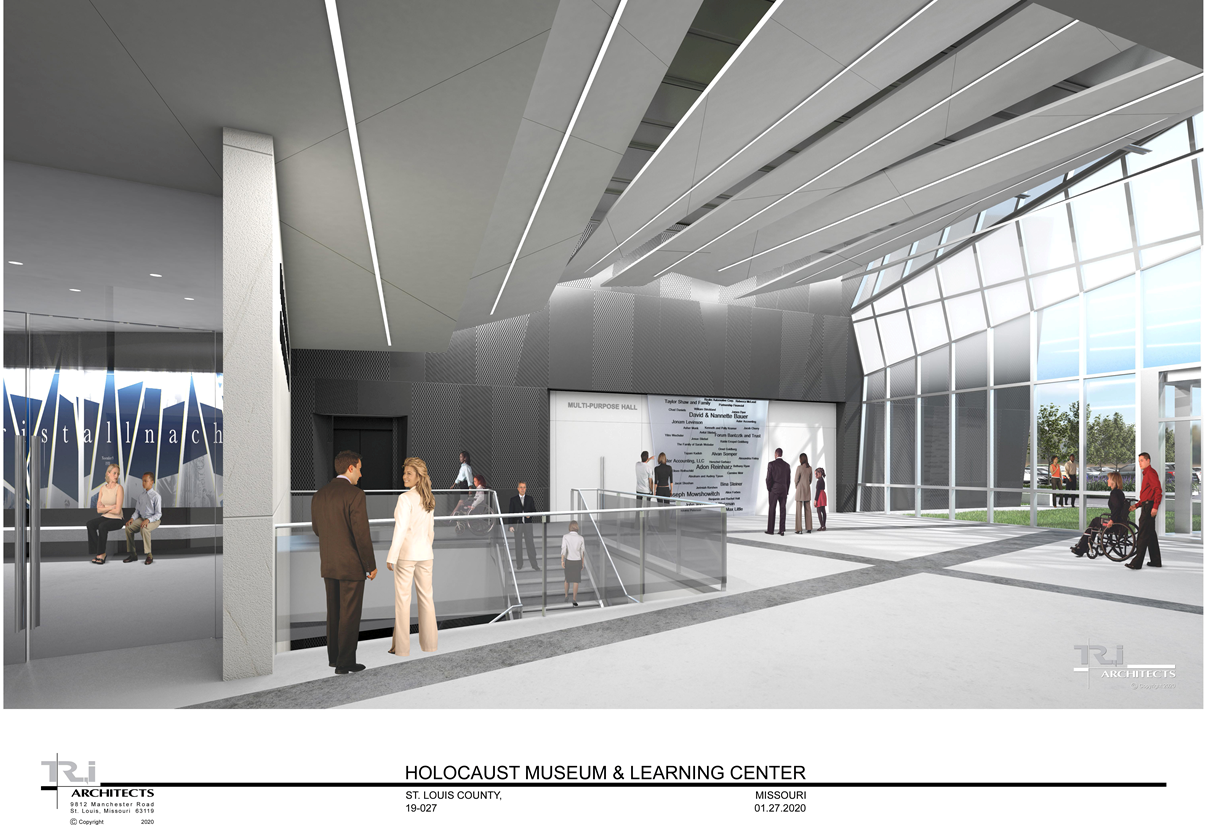 Lessons of History Must Never Be Forgotten
The St. Louis Holocaust Museum & Learning Center today commemorated its 25th year with the announcement of a new world-class facility. Holocaust survivors, local dignitaries and religious leaders gathered to unveil the museum design for the state-of-the-art facility on International Holocaust Remembrance Day.
The $18 million project will be built on the Millstone Campus, near the northwest corner of Lindbergh Boulevard and Schuetz Road. The organization also announced it has been awarded a $750,000 challenge grant from the National Endowment for the Humanities (NEH) for the expansion project.
"Using the lessons of the Holocaust to address bias, bigotry, and hate is important locally, nationally and around the world. This significant community asset will be expanded to enable us to facilitate critical conversations with more people in our community to inspire dialogue and actionable positive change," said Sandra Harris, Executive Director of the Holocaust Museum & Learning Center.
The expansion will triple the space of the existing facility to 35,000 square feet and will increase opportunities to engage with students from hundreds of regional schools and engage with the community through lectures, films, and other events. The expansion will provide a new space for the display of temporary exhibitions from the Museum's collections and other institutions. A multipurpose space will allow for seating up to 250 for programs and community events.
"We have been honored by support from our early donors including individuals, corporations, and foundations to this project and are thrilled to have the NEH challenge to launch the community phase of the campaign. We welcome everyone's participation on this journey to build a fantastic resource for the region that will educate, inspire and attract thousands of people to our community," said Carol Staenberg, chairman of the capital campaign. "The Holocaust Museum & Learning Center is an important project in a critical time, and we look forward to maintaining its relevance well into the 21st century. We firmly believe that it is our responsibility to teach about the Holocaust and to use that experience to empower the next generation to foster understanding and create real change."
"The $750,000 National Endowment for the Humanities challenge grant is one of the largest ever awarded in the State of Missouri. This will be critical in renovating the St. Louis Holocaust Museum & Learning Center and expanding its footprint in St. Louis so even more Missourians and visitors from all over can study and learn from the brutality of the Holocaust," said Congresswoman Ann Wagner, R-Ballwin. "I am proud to have supported Federation when they applied for this federal grant and am grateful for all they do for our community."
The announcement coincided with International Holocaust Remembrance Day, an international memorial day commemorating the tragedy of the Holocaust. Candles were lit by six local Holocaust survivors: Wally Mayer, Mendel Rosenberg, Felicia Wertz, Miriam Spiegel Raskin, Oskar Jakob, and Gloria Kaplan Feldman.
The new Museum is being designed by internationally recognized Gallagher & Associates (G&A), which uses interactive design and media with the physical environment to produce immersive experiences that engage, entertain, and create measurable impact. With projects including the Ronald Reagan Presidential Library, the International Spy Museum (Washington, DC), the National Archives, National Center for Civil and Human Rights (Atlanta), and the National Museum of American Jewish History, G&A has developed key programs for museums around the U.S. and the world.
"This project addresses the fundamental issue of every generation – that of human rights and how we treat each other," said Dr. Sam Page, St. Louis County Executive. "These lessons are important regardless of a person's race, religion or ethnicity. Our society is increasingly diverse, both locally and globally, so learning to embrace differences and live together harmoniously is as important today as ever. The Museum is a beacon of hope – we are fortunate to have it in St. Louis."
The Museum, which already hosts 30,000 visitors a year, will become a regional destination for people to learn the history of the Holocaust and related issues that still exist today. Through interactive exhibitions, programming, and self-reflection, visitors will explore how bias affects their daily lives and the lives of others. Lessons from the Holocaust show how stereotypes can turn to prejudice, violence and, in the most extreme cases, genocide.
Accessible for those with all abilities, the Museum will welcome guests with an introductory theater that will put them at the heart of history. Other experiences will challenge visitors to understand perspectives of collaborators, bystanders, upstanders, liberators, and victims. Throughout the Museum, visitors will connect with survivor stories from an extensive collection of 235 oral histories. A dedicated team of volunteer docents, including second- and third-generation Holocaust survivors, will continue to bring stories to life for visitors of all ages and backgrounds.
The Museum's existing 12,000-plus item collection of artifacts conveys the range of human experience embodied in Holocaust history. A new environmentally controlled and secure archives space will protect and preserve these precious items and will allow on-site research by students and scholars.
A May 2020 groundbreaking is planned, with completion in late 2021. One of a kind in the region, the Holocaust Museum & Learning Center is one of just 22 Holocaust museums in the United States.