There's something special underway at the St. Louis Kaplan Feldman Holocaust Museum! We are excited to offer you an exclusive, limited-time opportunity to take part in our commemorative paver program.
Over twenty-five years of support for this Museum has allowed us to grow into an invaluable platform for Holocaust education. Expansion and renovation will elevate our beloved Holocaust Museum into a world-class institution that will empower the next generation to shape a better future.
PLEASE NOTE: While pavers are currently on sale, we cannot guarantee their placement before our November 2 reopening.
We ask that you make your legacy permanent by purchasing a commemorative paver, an enduring reminder of your support for this important institution.
Purchase Your Paver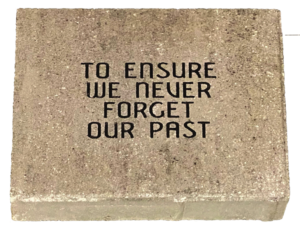 Beautiful custom engraved pavers will be installed in the brand-new Memorial Garden and outside of the Museum entrance in a scenic, patterned walkway. Just imagine your paver(s) engraved with your name or your loved one's name as a celebration of the new Museum!
Customized pavers, available in three sizes, are the capstone of the capital campaign, and we hope you will join us to create a powerful message to students and visitors as they enter and exit one of the most memorable experiences of their lives. All capital campaign donors will be recognized in future publications and receive invitations to grand opening programs.