Yom HaShoah 2023: Voices of Resistance 
April 16, 2023, 3:30 pm
United Hebrew Congregation
Register Here
Save the date! Our annual Yom HaShoah commemoration is back in person at United Hebrew this year. Please join us for this important program and help us to honor the survivors and remember the victims of the Shoah. 
Most Intimate Murder: Child "Euthanasia" in the Third Reich  
April 27, 3 pm
St. Louis Kaplan Feldman Holocaust Museum
Register Here

Edith Sheffer is a historian of Germany and central Europe, and a Senior Fellow at the Institute of European Studies at the University of California, Berkeley. Her most recent book, Asperger's Children: The Origins of Autism in Nazi Vienna (W. W. Norton, May 2018) investigates Hans Asperger's creation of the autism diagnosis in the Third Reich, examining Nazi psychiatry's emphasis on social spirit and Asperger's involvement in the euthanasia program that killed children considered to be disabled. Sheffer's first book, Burned Bridge: How East and West Germans Made the Iron Curtain (Oxford University Press, 2011) was awarded three prizes, including the American Historical Association's Paul Birdsall Prize. The book challenges the moral myth of the Berlin Wall, the Cold War's central symbol — revealing how the Iron Curtain was not simply imposed by Communism, but emerged from the everyday actions of ordinary people. Sheffer's next book, Hidden Front: Switzerland and World War Two, tells an in-depth history of a nation whose pivotal role remains unexposed yet was decisive in the course of the Second World War. The recipient of five teaching awards, Sheffer has also developed a method, Creating Lives, in which students craft a fictional historical character throughout a course, shaping the life paths of their characters through weekly diary entries. The method has been widely acclaimed and adapted in community colleges, and high schools, and universities. Thank you to Michael Staenberg for his support of this program.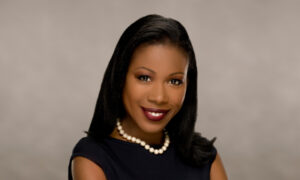 Staenberg Lecture Series: Isabel Wilkerson
April 27, 2023
The Factory, Chesterfield 
Tickets Available on Ticketmaster
The Annual Staenberg Lecture, presented by Maryville University in partnership with the St. Louis Kaplan Feldman Holocaust Museum, will take place Thursday, April 27, 2023, at The Factory in Chesterfield, Missouri.
The event will feature Pulitzer Prize-winning author Isabel Wilkerson. A former Chicago Bureau Chief for The New York Times, Wilkerson received the 2015 National Humanities Medal. Her most recent book, Caste: The Origins of our Discontents, explores America's deeply-rooted divisions and the parallels with historical hierarchies in both India and Nazi Germany. A #1 New York Times bestseller, Caste was also named #1 Nonfiction Book of the Year (2020) by Time magazine, and inspired an in-depth Oprah's Book Club podcast series, produced by Apple Books.
Bringing the Community Together