Survivors, their descendants, veterans, and others have donated artifacts, documents and other memorabilia since before the Museum opened in 1995, creating a rich repository of memories connected with the Holocaust and WWII years. Some items are part of the Museum's permanent exhibit; others have been the focus of temporary exhibits, as well as historical research and publications.
For more information about the Archives, or if you are considering a donation, please contact Amy Moorman at 314-442-3722 or email AMoorman@STLHolocaustMuseum.org. 
Selections from the Archives
---
RAD Bowl
This simple square white porcelain bowl provides a glimpse into a little-known work program of the German government during WWII. Hutschenreuther, a well-known porcelain manufacturer in northern Bavaria, made the bowl as part of a serving set for a division of the Reichsarbeitsdienst (RAD). The RAD, or State Labor Service, began in 1934 as a program to put the German unemployed to work. It soon evolved into a militaristic workforce indoctrinated by Nazi ideology. Men had a compulsory six-month service in the RAD before their military service, while mandatory service for women began after the war started. This bowl was made for, and used by, one of those RAD divisions. [General Collection]
Remagen Nazi Banner Signed by US Troops
The Allied capture of the intact Remagen Bridge on March 7, 1945, two weeks before the planned offensive to cross the Rhine River, quite possibly shortened the war. Although the Germans initially tried to blow up the bridge, their charges only partially detonated, allowing American forces to cross the bridge.
The Germans spent the next ten days trying to destroy the bridge by attacking with everything, but failed in their attempts thanks to the protection of the largest concentration of anti-aircraft weapons seen in the war. A member of one the automatic anti-aircraft gun batteries charged to defend the bridge brought this banner home with him after the war. It came from the two-story, eight classroom school in Remagen that his unit used as their quarters, and is signed by several of the men in his battery. [Herman Dell Collection]
Jewish Ghetto Police Stamp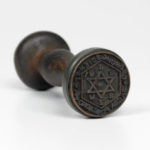 The "Organization for the Maintenance of Public Order," commonly referred to as the Ghetto Police, usually came into existence with the creation of ghettos in Eastern Europe. Although officially part of the Judenrat (Jewish Council) of each city or town, the Jewish Ghetto Police also took orders from the Germans. Their role within the ghettos was dictated by the demands of the Germans, the Judenrat's activities and the needs of the Jewish population. This example included both the Polish Ghetto Police Stamp and the box in which it was kept. [General Collection]
DP Camp Tags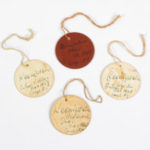 Resettling or repatriating the millions of refugees and former inmates of the Nazi German concentration, labor and POW camps was a massive undertaking after WWII. Most found themselves in Displaced Persons (DP) camps until they could be reunited with family or resettled. The last DP camp closed in 1959 – 14 years after the end of the war. These tags, for the Koenigstein family, are dated February 1951. [Jerry Koenig Collection]
WWII Crash/Escape Maps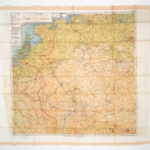 Both the U.S. and the British produced cloth maps for Allied military personnel during WWII. Some were made of parachute silk, others of balloon cloth or acetate rayon. The goal was to provide maps that were tear resistant, noiseless, waterproof and accurate. [General Collection]
Goatskin Jacket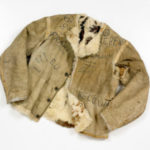 This amazing handmade, fur-lined goatskin jacket was given to a member of the U.S. 89th Infantry, the famed "Rolling W." After landing in France in March 1945, the 89th quickly advanced into Germany, crossing the Sauer, Moselle and Rhine rivers. On April 4, 1945 the 89th liberated Ohrdruf, a subcamp of Buchenwald. Ohrdruf was the first concentration camp liberated by U.S. troops in Germany. [General Collection]
German School Book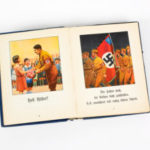 While it looks like the 1930s version of a "Dick & Jane" book, this German school book for early readers had pages inserted to reflect the country's new political reality. Mandated by the German government, the book now contains images of Hitler and the S.A. marching "with silent solid steps." [Marianne Collin Goldstein Collection]
School Slate & Satchel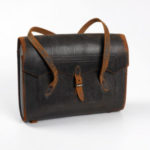 This well-used school slate and satchel date from the mid-1930s and were used by a young German Jewish child in first and second grade. Children used slates to do their daily school work, and the satchel, the book bag of its time, allowed children to carry books, slate, pencils, etc. to and from school. [Marianne Collin Goldstein Collection]
Signal Corps Camera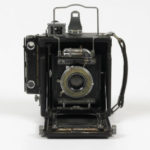 The U.S. military realized the important role cameras could play during WWII. Photographs, both still and motion picture, played a vital role for the military – and the public – during the war. They assisted with strategic planning, recognizing equipment deficiencies, providing legal evidence of war crimes and serving as a public relations tool. [General Collection]
Child's Shoe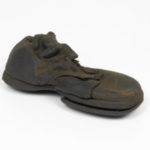 Shoes have become a poignant symbol of the Holocaust, reminding us of the millions of individuals who once wore them. This tattered shoe, worn by a child who was murdered during the Holocaust, memorializes the 1.5 million children killed during the Holocaust. [Yaakov (Jackie) Handeli Collection]
SA Dagger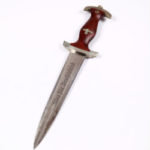 Created for soldiers of the SA (Sturmabteilung) or the "Brown Shirts," daggers of this type were produced throughout Nazi Germany. The dagger's sleek design embodied power and symbolized the supposed vigor of the SA soldier. The Reich manufactured more than five million blades between 1933 and 1944. "Alles für Deutschland" or "All for Germany" was etched on each blade and the hilt of every dagger bore initials indicating the geographic state of production. The hilt of this dagger bears the letters (He), indicating Hessen as the state of manufacture. [Hans Jacoby Collection]
Nationalsozialstische Frauenschaft Pin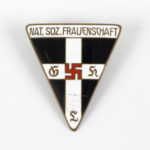 Just as the men and boys had their responsibilities, women and girls also had a role to play in forwarding the goals of the Nazi Party. The purpose of the Nationalsozialstische Frauenschaft, or Women's League, was to spread ideas about motherhood, marriage, family, domestic affairs, use of German products, self-sufficiency and being companions (not equals) to their husbands. Membership was mandatory for women age 18 to 30. Pins like this showed the rank within the organization and the geographical identity of the wearer. This example dates from 1934-1938. [General Collection]
Olympic Bell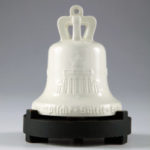 A souvenir of the 1936 Olympics, this bell is a re-creation of the actual bronze Olympic bell that hung in the bell tower at the western end of the Reichssportfeld. These bells were produced by KPM, the Royal Porcelain Maker, and show a depiction of the Brandenburg Gate and an eagle holding the Olympic rings. The motto "I call the youth of the world," and "11 Olympic Games" appears between two swastikas. [General Collection]
Mother's Crosses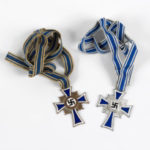 The Reich rewarded German women with a Mother's Cross of Honor annually on the second Sunday in May (Mother's Day). Mothers were awarded the cross if they were ethnic Germans and "deemed worthy" by producing at least four children for the Reich. Crosses came in three levels depending on the number of children a mother bore: gold for eight or more, silver for six or seven and bronze for four or five children. The awards came in two sizes, a large one with a neck ribbon for grand occasions and a miniature that could be worn every day. Women wearing such emblems received preferential treatment and public services, everything from having front row seats at an event and moving to the front of lines to the best choices of products and foodstuffs. [Rufus Denton Collection; Unnerstall Collection]