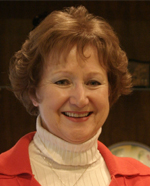 Sofia (Liwer) Kent, born Metuka Liwer, is a child of survivors of the Holocaust. She was born in Poland in January 1946 after her parents were released from heavy-labor subcamps Auschwitz. Her parents were Marek (Chaim) Liwer and Dora Liwer (Zaurampf), both from Bendzin, Poland. Most of her mother's family was annihilated, and no grandparents survived.
The family ended up in Germany, and, after failed attempts to emigrate to the U.S., remained in post-war Germany. Sofia completed high school at the Nibelungen Gymnasium in Worms, Germany, and went on to study Medical Technology. After getting married in the Raschi Synagogue in Worms am Rhein, she emigrated to the United States; lived in Louisville, Kentucky; Peoria, Illinois; and, in 1987, after her mother's death, moved with her family to Saint Louis, Missouri.
After moving to the U.S., she undertook university studies and earned a Bachelor of Arts degree and her certification in Medical Technology, eventually working as a clinical microbiologist at Jewish Hospital and, later on, at the Barnes-Jewish South campus. She retired in 2008 from the hospital after twenty years of service. Sofia is married to Jerry Kent and is the proud mother of Ellen and Andy and the acquired mother of Kim and Steven. She has six grandchildren and two great-grandchildren.
Growing up under the shadows of the Holocaust and now living in the U.S., she felt that she wished to meet people with similar background and experiences. She joined a group for second- and third-generation Holocaust survivors, but soon it became apparent that the most of the friends she was making were ones who came from Europe, namely the "hidden children," with whom she felt an immediate affinity. The "hidden children" group and the second and third generation group discussed joining the two groups, and everyone agreed, making this the first such group of "hidden children" and second- and third-generation Holocaust survivors.
She plans to become a speaker at the St. Louis Holocaust Museum and Learning Center to help continue the work started by the Holocaust survivors to assure that "We never forget!"
Sofia's Stories